Fresh, Wood fire roasted coffees, from the boreal forest to your doorstep
ECO friendly packaging

While nobody is perfect, we do our best to source our packaging in a way that considers the envionment. All of our coffee bags are compostable (minus the degassing valve), the bottles used for whisky barrel aged coffee are recycleable or reusable. We source all packaging and labels as local as we can to limit our carbon footprint, and to support local.

Sustainably roasted coffee

Our 700kg Cast iron and brick, custom built roaster uses wood for heat, that we harvest sustainable around the property. The roastery operates on Solar power 80% of the time, it's during those dark and grey months of December and January where we sometimes have to use the generator on roasting days. We try to plan our roasting days around the sunny days but this doesn't always work, as we do need to keep up to demand!

Supporting local

We wouldn't be where we are today without your support, so it is our pleasure to sponsor events of all sorts, across many northern communities. We have also created multiple fundraiser coffees that raise funds for particular Societies and BC Parks.

If you are looking for fundraising ideas for a school trip, sports team or anything in between, ask us about our fundraising program!
Shop Fundraiser blends, Merch and coffee subscriptions
Only the best coffees

All of our coffees (yes the whisky barrel aged coffee too!) are certified organic. We are proud to offer you specialty grade arabica coffees from around the world.

We source coffee beans through cooperatives that are in line with our visions. For example: Women producer coops, Coops that hire ex cocaine workers, Coops that improve the lives in their communities by building schools etc. We want you to know that we make every effort to make your support count, all the way to the source.

The perfect roast profile

When we get a new coffee in, we spend time creating a roast profile that brings out the best of that specific coffee bean. You'll see that we offer some of the same beans in both a medium and dark roast, this is so you can experience the difference a roast profile makes one the same coffee bean. We encourage you to try! Thanks to our profesional Trabattoni coffee roaster, we have all the controls we need to control the roast profile and be consistent from roast day to roast day, while using wood fire to do so. Did we tell you that our roaster only needs 2 lbs of pine to roast 22lbs of coffee? It's amazingly efficient.

Whisky barrel aged coffee

In 2018 We became the first coffee roastery in Canada to offer Whisky barrel aged coffee, using whisky barrels that contained award winning whiskies from Two Brewers, the distillery in Whitehorse Yukon.

We have continued to improve the recipe and are very proud of our current doulbe aging process that takes months to complete. It's an experience you'll have to try.

We originally created the Whisky barrel aged coffee to be an after dinner coffee experience, but from what you've told us, it's being enjoyed at the office, at home, while camping, at any time of the day.
The story that inspires. Watch this 3 minute video made by Small Business BC. We were one of 5 finalists in the Small business BC awards 2022 :)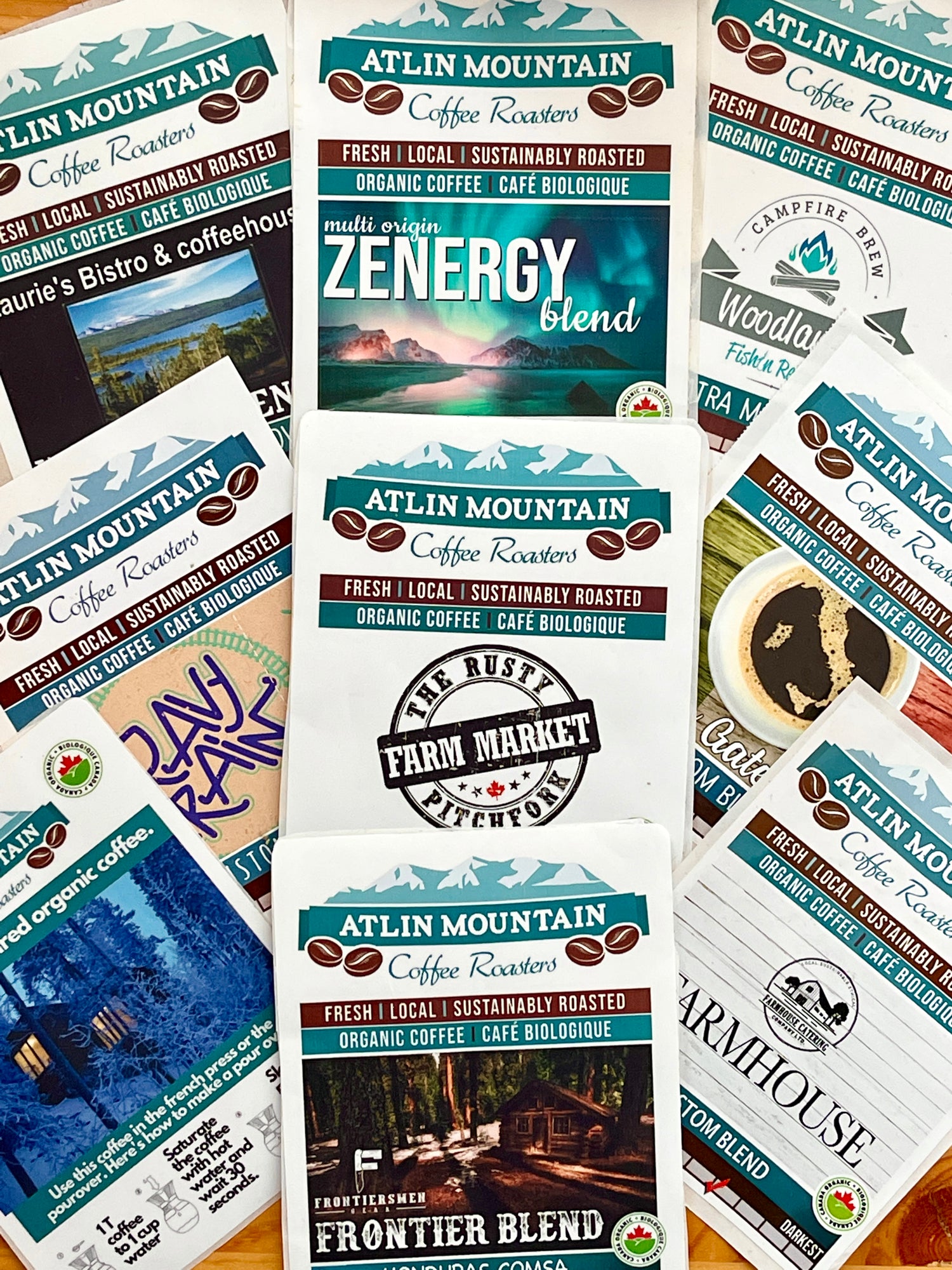 Yes, we do custom labels!
Whether it's for your special event, your business, wedding favours, or anything in between. We can create custom labels and custom blends for you. Your label design or ours. This is your coffee!
Contact us
Find your new favourite
Regular price
From $19.00 USD
Regular price
Sale price
From $19.00 USD
Unit price
per
Whether you prefer your brew dark, medium, or light, Atlin Mountain Coffee is as wild and full of character as the place it is roasted, in the midst of the boreal forest of Northern BC. No chemicals or pesticides, just specialty grade organic, fairly traded, ethically sourced single-origin beans and blends brought to perfection in the Canadian wilderness.
We love coffee, and we love the outdoors. The environmental and social ethos of our roastery reflects these passions. Our unique wood-fired roaster ispowered bysolar energyand fueled with local pine, which we harvest sustainably. By roasting with radiant heat, the beans avoid contact with smoke.The result?
Fresh, artisanal coffee made with ethical beans and renewable energy. Going off-grid has never tasted so good.
Watch this 2 minute video about how we make our Whisky barrel aged coffee (the single aging process that we started with)